During my first couple weeks in Austin, I caught myself thinking about future destinations — tipped off by a moment of clarity while researching hikes in New Mexico. I realized that some of my thoughts about the future were yanking me away from the present and away from enjoying Austin to the fullest. Living in the future rather than the present and always dreaming of the next thing is an easy habit to fall into — "I just need a change of scenery and then things will be good" or "I just want to buy X and then things will be good". It's easy to think about the next place you are going, rather than taking complete advantage of wherever you currently are.
Long-term travel can exacerbate this feeling.
Austin was the first city I was staying in for an extended length of time and I was excited to explore — however, a lot of the exploration I had in mind revolved around being outdoors and in the mountains, hiking and climbing. Austin is definitely an outdoor-friendly city, with numerous beautiful and awesome outdoor spots to explore, but it certainly isn't near any mountains - small hills perhaps, but definitely not mountains. After noticing myself planning and thinking about the future several times, rather than engaging with the present I realized I needed a mindset shift.
One of the reasons I'm traveling is to find a place to move to, perhaps permanently or at least as a home base for awhile. I knew that Austin wouldn't be my choice of home, but I wanted to visit regardless because I had heard so many good things about it. I began reminding myself that those cities would be here soon enough and to explore and experience the parts of Austin that make it spectacular — the rich nightlife, the amazing music and food, the eclectic and wonderful people, a shit load of scooters, and a badass rock climbing gym (I know, probably not everyone gets excited about a nice rock climbing gym but I certainly do).
I began enjoying my time more, felt myself living more centered in the present, and appreciating Austin to the utmost. Too often my impulses and triggers control my time and energy, oftentimes without my noticing. Meditation has been hugely impactful for me the last year in helping me identify impulses. The benefits can be immense in a situation like this, where all that was needed was awareness and a mindset shift.
Enough of these deep thoughts, let's eat some damn tacos.
Tacos
Austin takes tacos seriously. Hence why there is a whole section of this post dedicated to tacos. If you want to spark a conversation with someone, you can just ask them what their favorite taco spot is. You may get one of the standard answers - Torchy's or Tacodeli, sparking a lively debate about which is better, or you might get a detailed answer on why an obscure hole-in-the-wall taco joint is the epitome of the taco. Regardless of all that, there is an endless amount of taco spots, all the ones I tried were good, and some were great. It seems most tacos fit into one of two broad categories. The first is what I would call a "street" taco, more of an authentic Mexican street taco with the typical composition of meat, white onion, cilantro, lime and of course some taco sauce. The second is more gourmet, and taco shops pretty much put whatever the fuck they want on it, including the famous breakfast taco. If it can be eaten, it can be eaten on a taco.
Torchy's and Tacodeli are the two big chain taco shops in Austin. Then there are countless other taco shops throughout the city, some actual stores and many food trucks. My favorite was a place called Veracruz. They started as a food truck and now have a brick and mortar as well. The tacos they serve are incredible, they have far and away the best corn tortillas, varied and interesting taco choices, including both breakfast taco varieties, close to standard street tacos, and some with some more creative ingredients — and the tastiest taco sauce around. My favorite was their take on a barbacoa taco - delicious slow-cooked beef with cilantro, onion, cabbage, and radish.
At their brick and mortar they also host a coffee bar called Machine Head, which also happened to be my favorite coffee in Austin. Most of their roasts are light, bright, and fruity — always expertly prepared, delicate, smooth and delicious. They source their beans from a few different roasters, including, to my surprise, Little Amps Coffee Roasters — a small roaster based out of Harrisburg, PA that I wandered into one time and deemed good enough to put their sticker on my water bottle.
My dad visited for a weekend while I was in Austin and the text I got after he left sums up the Austin Taco experience perfectly:
"I gained 3 pounds in Austin. Tacos."
- Don Johnson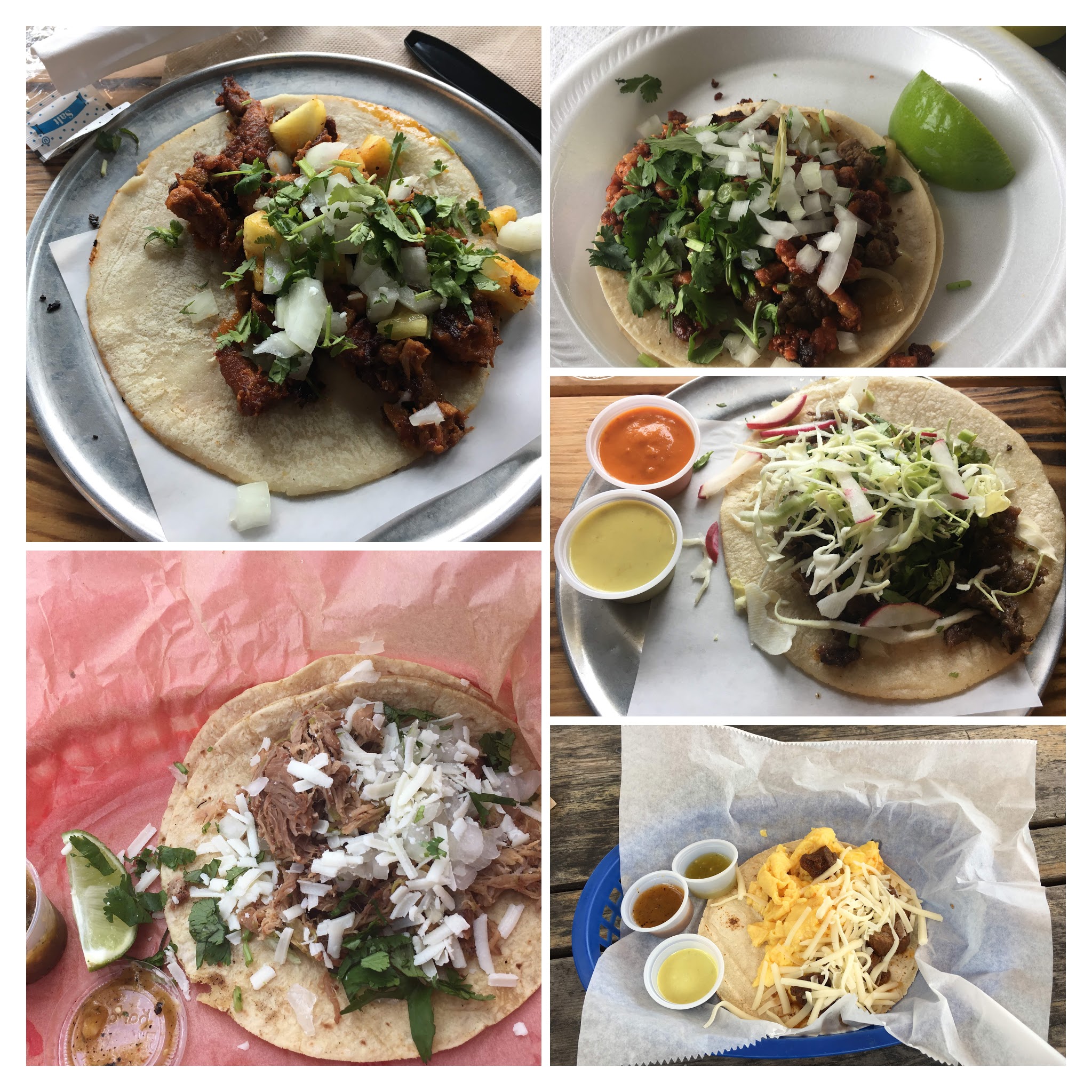 So many tacos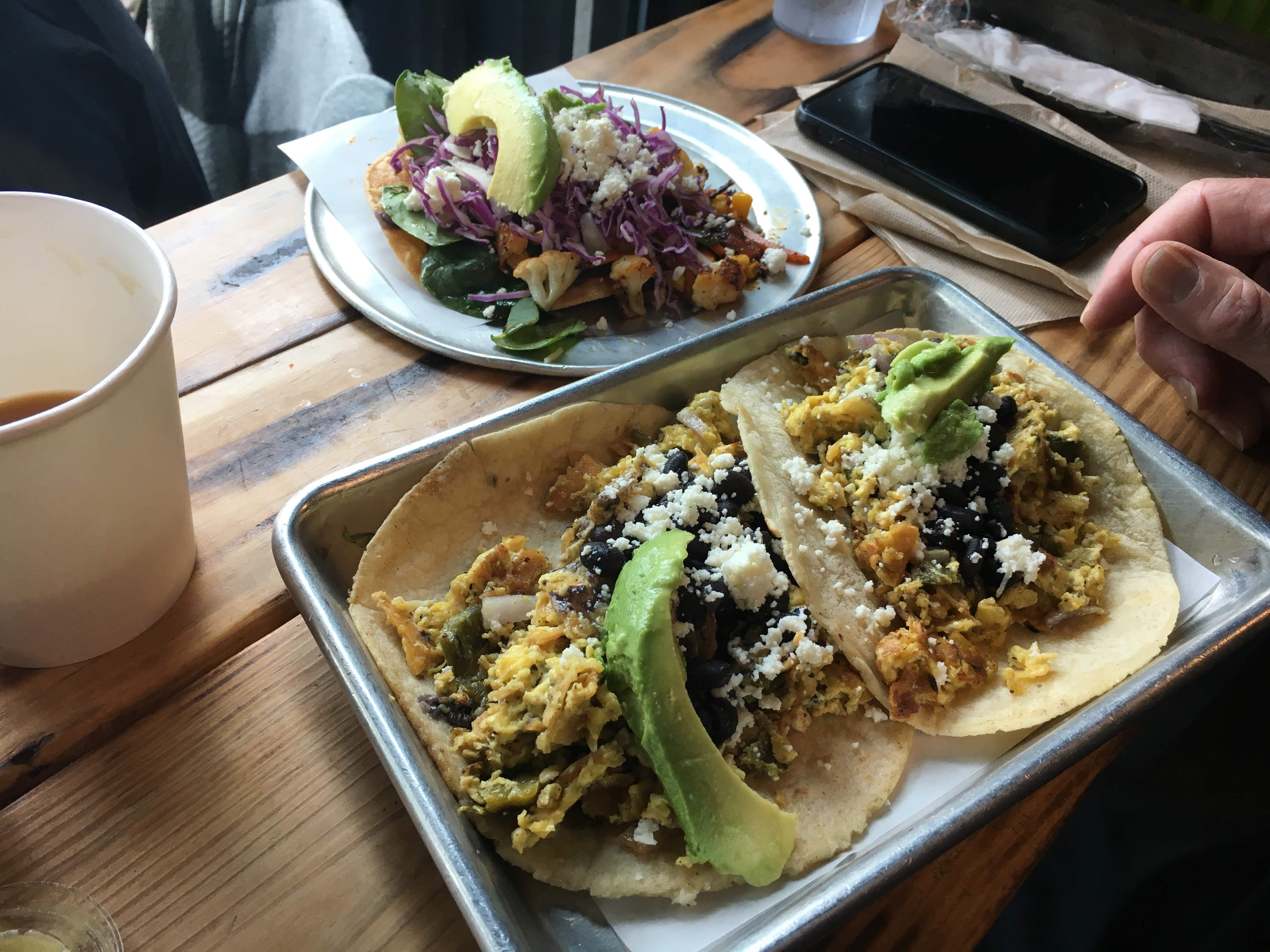 Dad's Taco Feast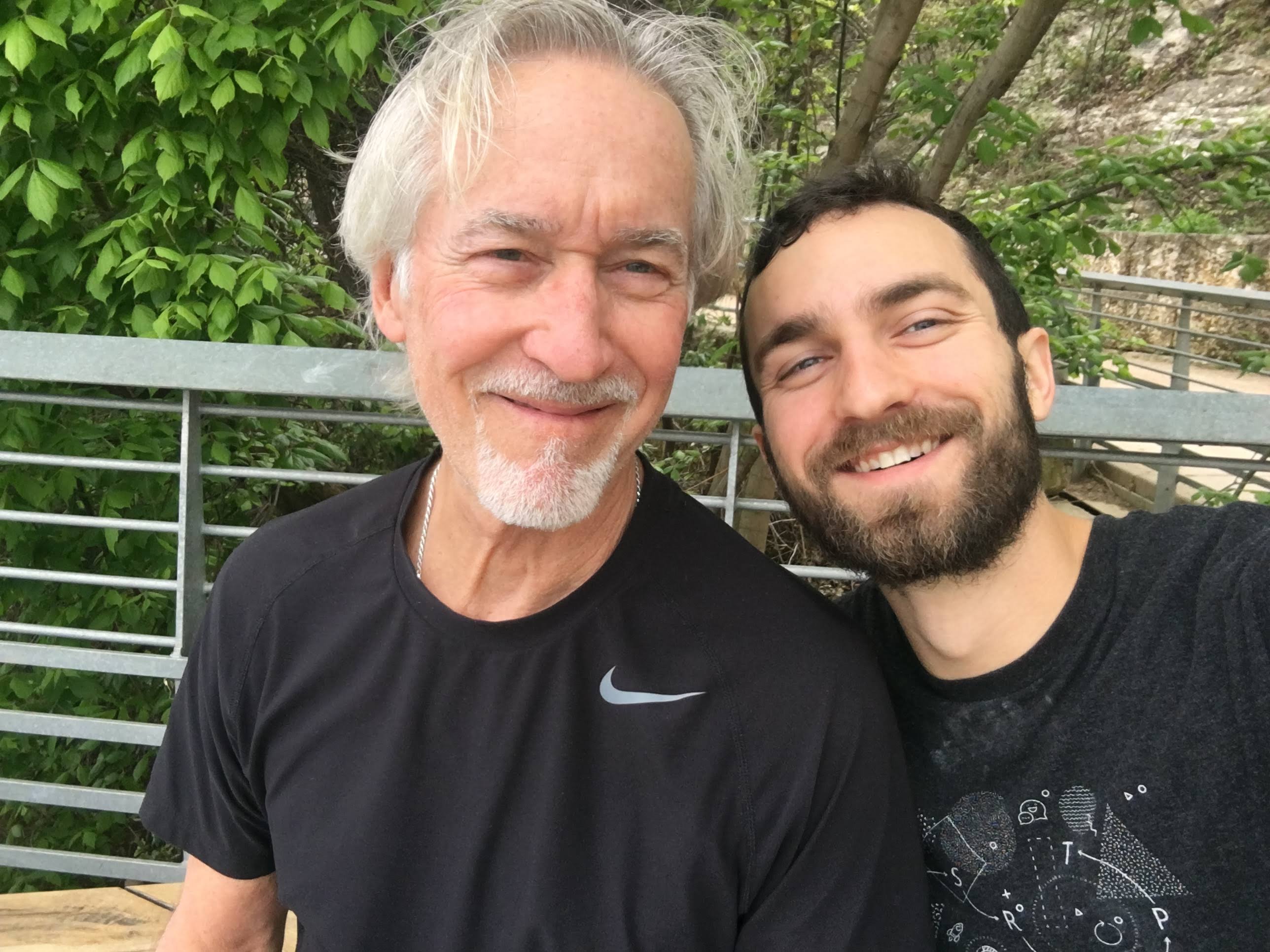 Zach and Dad
Music, Arts, and Outdoors
There is no shortage of things to do and see in Austin. You can see great live music seven days a week, and the venues can vary anywhere from the most-divy-dive-bars to theaters. Nearly every restaurant and bar anywhere close at all to the downtown area will have music of some sort. You can find any genre of music you please - if you look for it, somewhere will have it. One of my favorites was called "The Hole in the Wall" — it most definitely lived up to its name, with a small and intimate space and great sound system, perfect for seeing local bands. I saw an energetic, super-tight indie band there called Munn playing originals with lots of witty science-themed lyrics.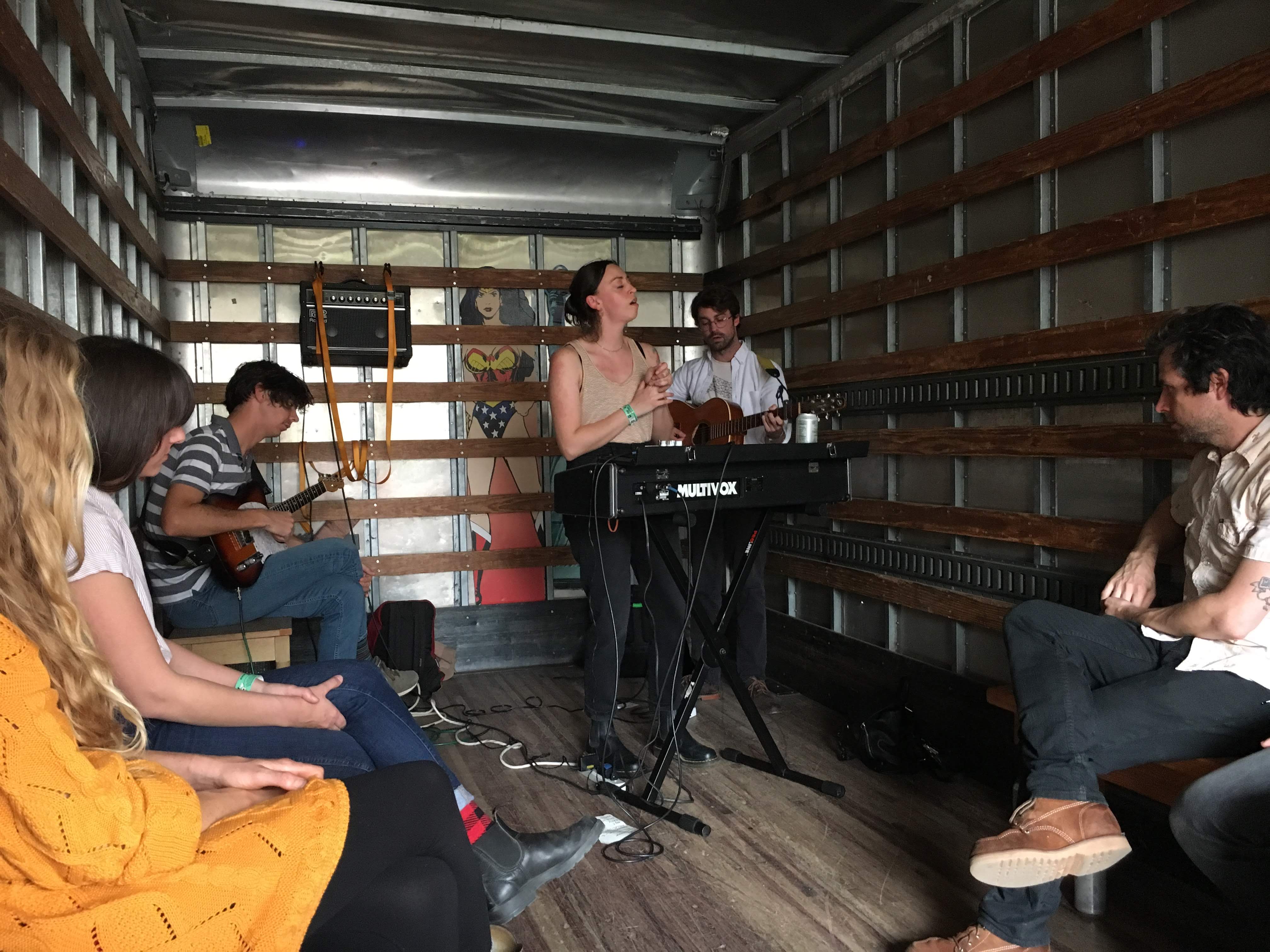 Another awesome band - Sun June, playing a stripped down set in the back of a moving truck during the South By Southwest festival
The public library in Austin turned out to be a surprising spectacle. It's a six-story, nearly 200,000 square-foot, LEED Platinum certified architectural achievement. Apart from the tons of books, there's also a rooftop garden with great views of the city and it's an awesome spot to relax and hide from the madness for a bit while exploring the downtown area. The organization of the library is also interesting - many of the rows aren't labeled, or at least not that I could find. So while you may know you are in the non-fiction section, you aren't exactly sure what you are looking at and I found myself wandering through the rows, reading book titles to determine what general area I was in. At first I was kind of put off by it, but then I realized how much it encourages exploration and enjoyment of something you may otherwise skip over - totally the reason libraries are awesome to begin with!
Lake Travis is another beautiful spot close to Austin. It's just outside of the city in the hill country, and one of the most beautiful spots I found was at a brewery that's perched on top of one of the hillsides and overlooks the lake. My dad and I spent an afternoon here, drinking craft beer and listening to some southern tunes.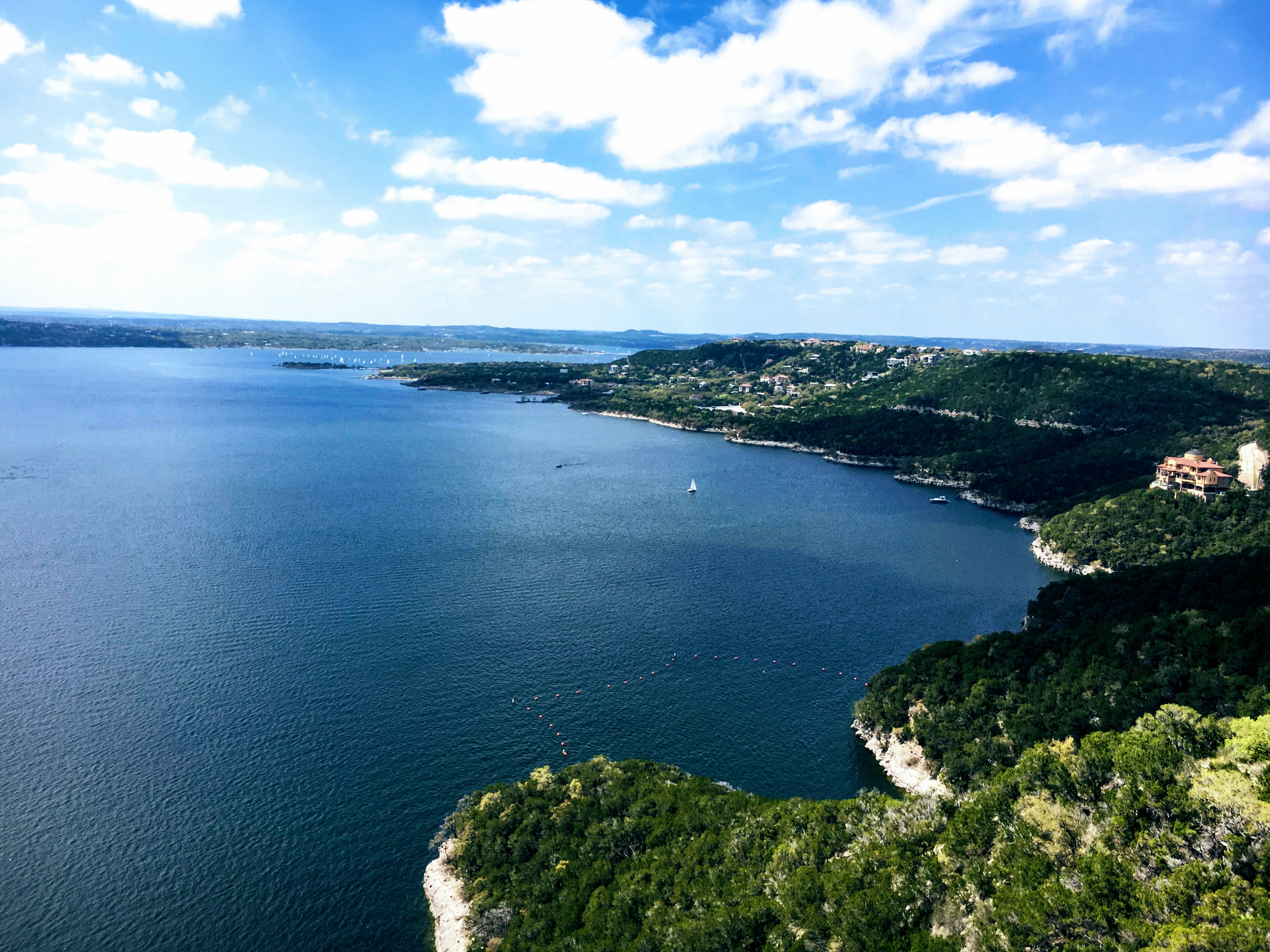 Overlooking Lake Travis
Daily Living
The reality of this lifestyle is that I'm largely living a normal schedule, with some time to explore in the evenings when I have energy for it and on the weekends. A lot of my time is simply spent in a normal-ish daily routine. For me, that's work, rock climbing or yoga most days, and perhaps some other exploration of the city. I found Austin to be a lovely city for this type of routine.
One of my favorite spots in Austin was the climbing gym, Austin Bouldering Project, mostly because it is much more than a climbing gym. I've been nursing a finger injury from climbing for the last month or so, so I was not actually climbing intensely while in Austin, but ABP has a yoga studio which I took full advantage of, and they also have an awesome mezzanine area to work from. I ended up spending a lot of time working from there, as it was nice to get out of my Airbnb and didn't require me to purchase a coffee or whatever, and it also made yoga and climbing easily accessible after work or as a break during the day.
The coffee scene was fantastic and I had a blast trying different spots. I mentioned earlier that Machine Head was my favorite coffee in Austin, but there are a bunch of spots that serve great coffee. Epoch has several locations around Austin, all with large spaces and comfortable areas to work from, with really solid and consistently good coffee, most of it sourced from Onyx (a big-name roasting company). Fleet Coffee Co was also superb, a tiny little spot with amazing coffee and not much in the way of comfortable seating for extended working. There are more spots but I'll save those for a more extensive review of the Austin coffee scene.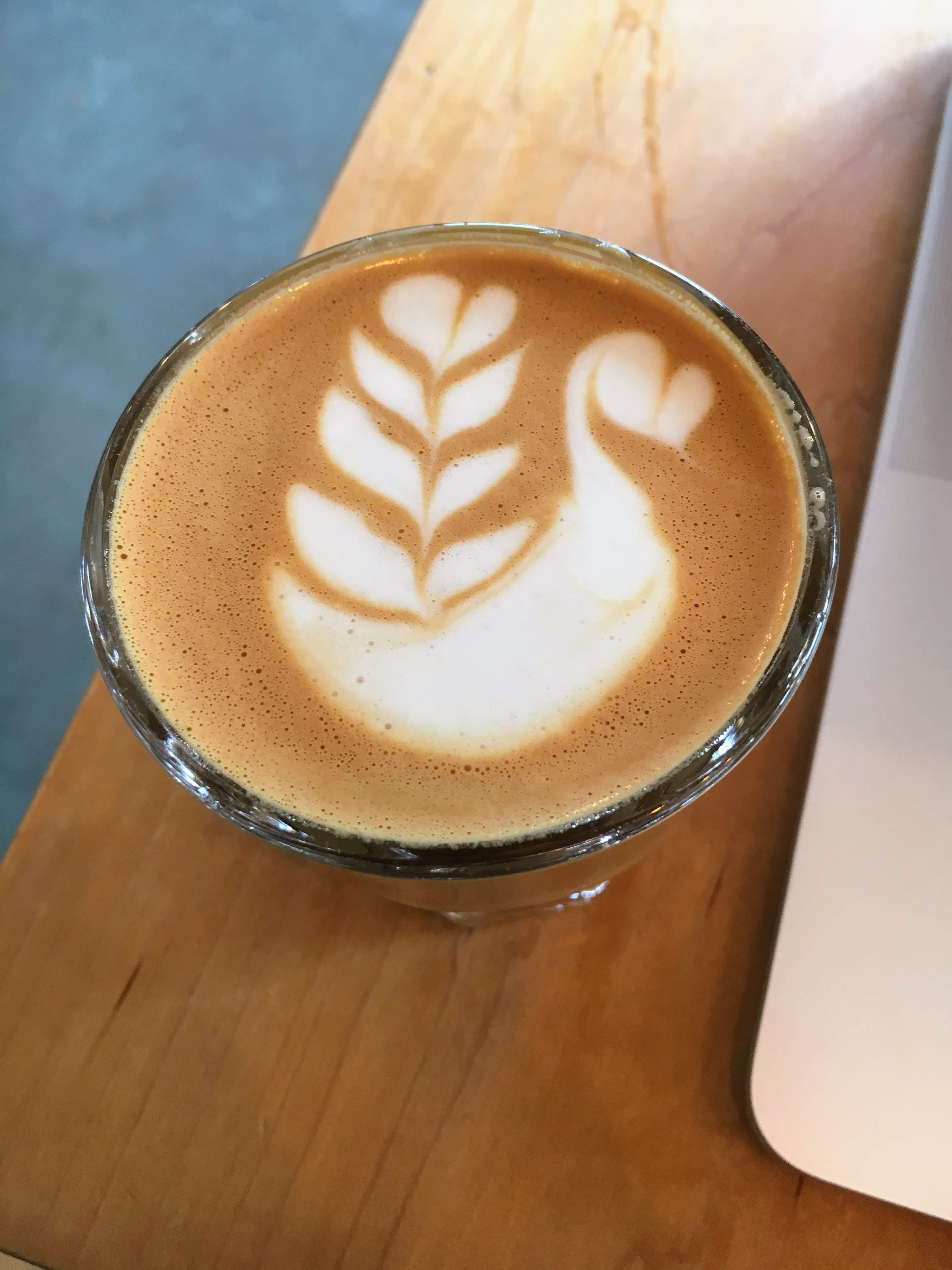 Damn that latte art
I enjoyed staying at my Airbnb in Austin. I was renting a room in a house with up to two other guests. One guest had been in Austin for a while and was there for the duration of my stay, so it was awesome to get to know her and have a friendly face around. We also had a cat, Turbo, living at the Airbnb who largely ran the place. Having some daily familiarity and routine in the house helps create some grounding and community while traveling — definitely something that can be hard to find sometimes.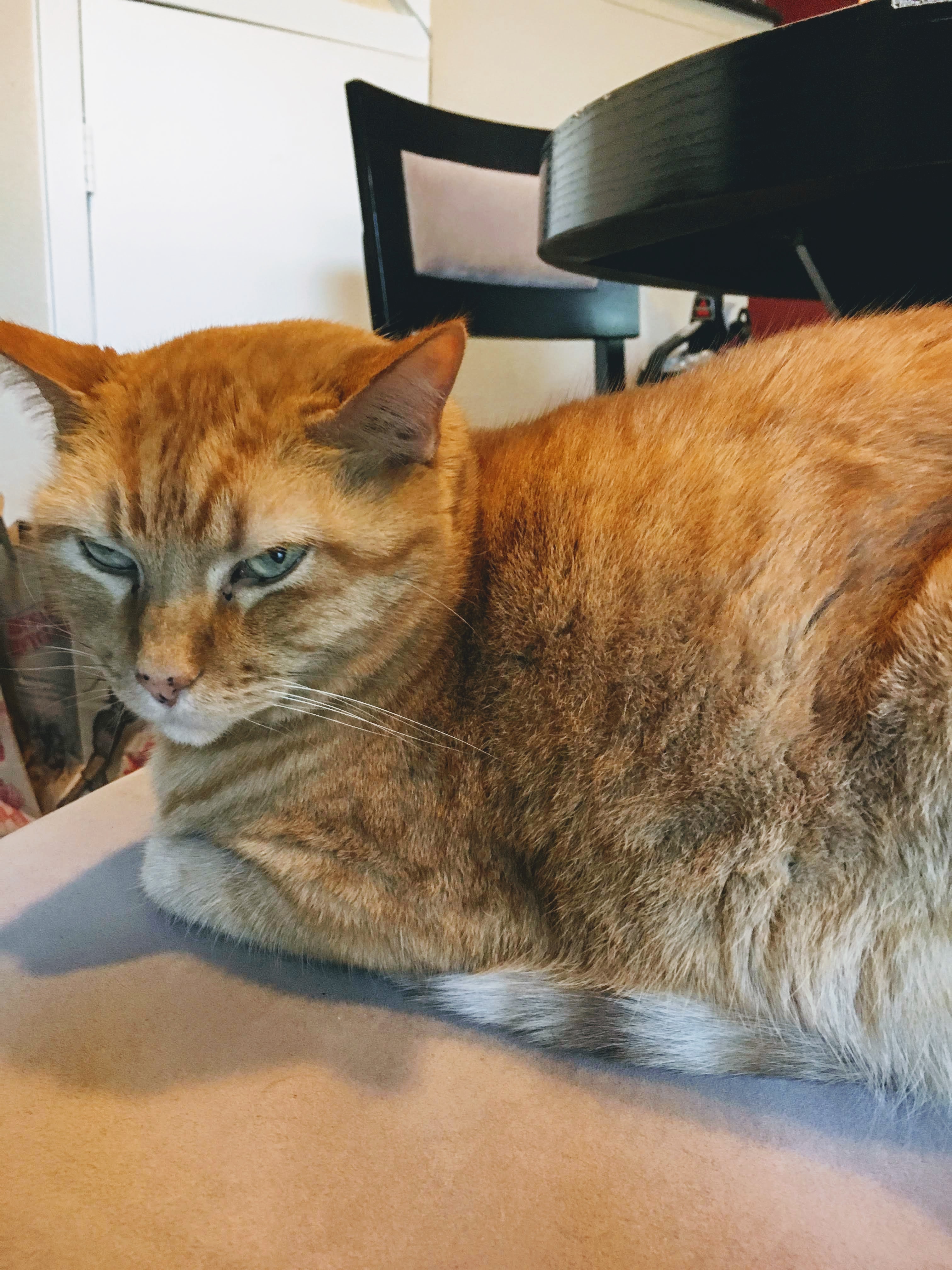 Turbo the cat looking pissed
The Beauty of the City
There are many things I can find beauty and joy in if I look harder and take a moment to pause. Cities are such a great example of this. Every city has undercurrents of something beautiful and amazing running through it - you just have to look for it. Austin doesn't have what I would call "natural" beauty. The city is drab looking, and while there are some nice outdoor spaces, they certainly don't define the city. That doesn't mean that the city isn't beautiful though. I found that the incredible music, the delicious food and coffee scene, and the liveliness of the people bring the beauty into the city and create something spectacular.
The more I examine my present circumstances and appreciate what I have now rather than what the future holds the more satisfied I feel. It's important to find a balance between planning for the future and enjoying the present. Both are necessary, and too often I find myself living in the future. Traveling helps ground me and presents a perfect dichotomy between relishing the present moment and exploring a new environment, while still having to maintain a forward-thinking plan of where I'm going next and what the future holds.