How I ended up spending a month in Taos is a bit odd. You may not even know where Taos is — it's a small town (population ~6000) in northern New Mexico. It's known mostly as an artist's community, similar to Santa Fe, but also for its amazing outdoor recreation with skiing, hiking, white-water rafting, and rock climbing all accessible. I ended up visiting Taos somewhat on a whim. When I was planning out my first few months of travel, I knew I wanted to check out northern New Mexico but didn't know many cities there. I was thinking about staying in Santa Fe, the obvious choice, but didn't like any of the Airbnbs I could find and I also knew it was fairly touristy. I saw Taos on the map, read a little about it, realized it sounded like a miniature version of Santa Fe with a lot of great outdoor opportunities and that was that.
I've been on the road over two months now, enough time to have my feet under me and have a better sense about this lifestyle in general. Happy to report that I feel content. I haven't felt so excited, so motivated, so focused, probably ever. It's a strange feeling for me. I think part of it is being consistently in new environments — I've always found that traveling helps me get creative juices flowing and just small changes of environment can also break me out of my typical modes of thought. I think a bigger part of it is that I'm actually manifesting a lifestyle that my gut instinct was driving me towards, and that's incredibly powerful. I feel centered, confident, and eager to see what the rest of the year holds.
---
Hiking
The hiking around Taos is simply astounding. The variety of landscapes and climates is so varied. I was in Taos at an interesting time of year — the higher-elevation ski valley area was still getting regular snow, while the desert was beginning to warm.
The closest part of the Rio Grande gorge lies about 20 miles from Taos. Driving out to it is a bit surreal, you drive in a straight line through an utterly flat, shrub-lined high-desert climate and then the gorge opens up in front of you, plummeting 800 feet into the earth with the enormous Rio Grande Gorge Bridge spanning the distance. The climate inverts down into the gorge, with trees and foliage sprouting up and a river running through the bottom of the gorge. There are tons of areas along the gorge to hike, my favorite actually being further north from Taos, at the place where two rivers meet — the Rio Grande River and the smaller Red River. Hiking trails run all through the gorge. I hiked down into the gorge, along the river and out to the point where the rivers meeting before returning back, getting lost, and hiking a few extra miles back to my car.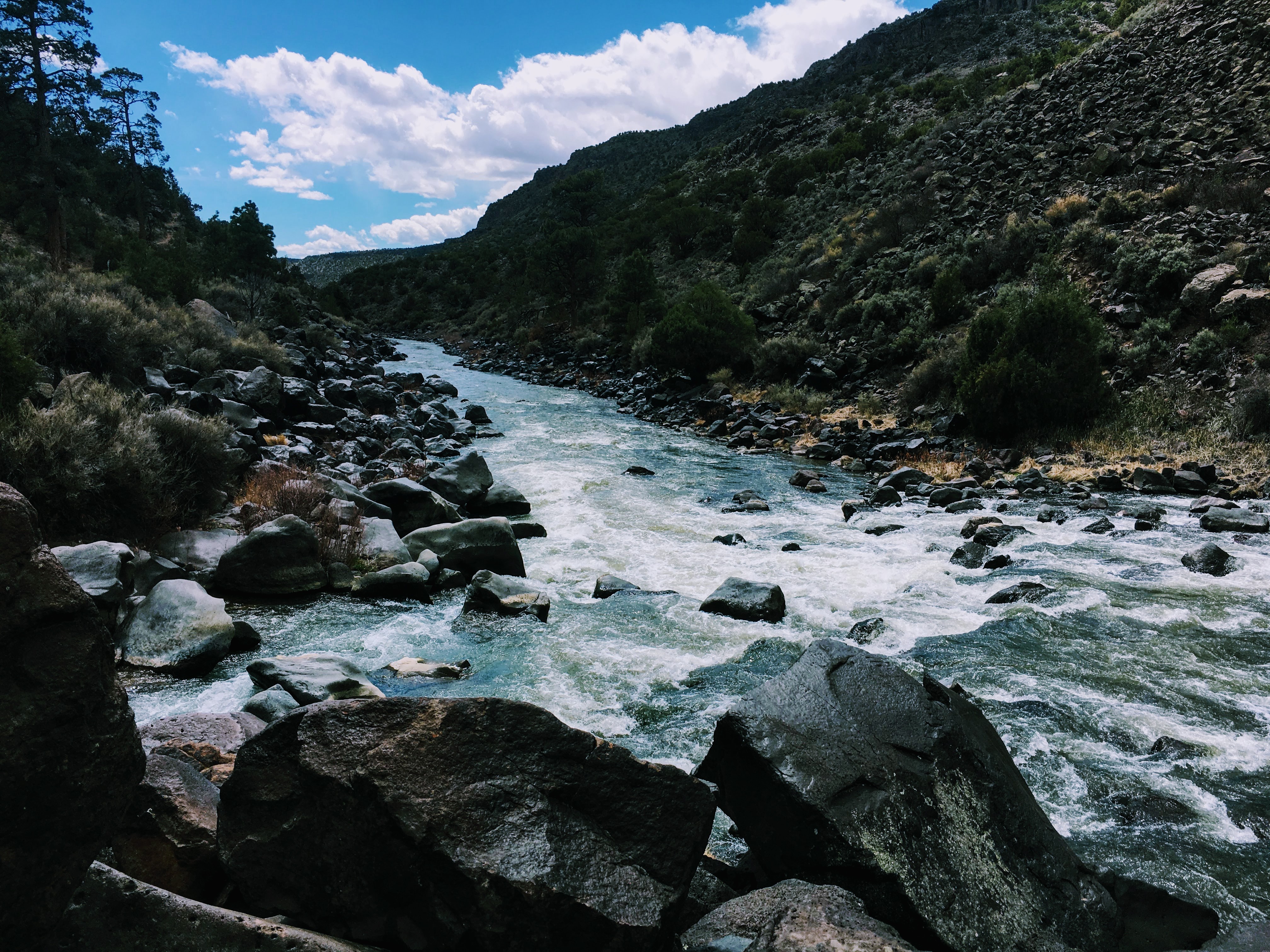 Red River meets the Rio Grande River
---
One weekend I went to the Ghost Ranch on Saturday to cruise around and hike and into the ski valley on Sunday to hike. What a contrast! Hiking around the Ghost Ranch was sunny in the 80s and the next day I was hiking through at least five feet of dense snow pack with lows probably in the 20s up higher in the mountains.
The Ghost Ranch is an old ranch that is now a retreat center with hiking trails, museums (they have an enormous dinosaur fossil quarry), and captivating landscape. It's been known largely as an artists retreat, made famous when Georgia O'Keeffe spent significant time there, drawing inspiration from the surroundings. The cliffs are carved out around the ranch, the lower exposed layers dating back to ~220 million years, exposing the fossil quarry and multi-colored rock. The hike through the valley and up on top of the rocky cliffs was stunning, the light, colors, and contrasts totally surreal.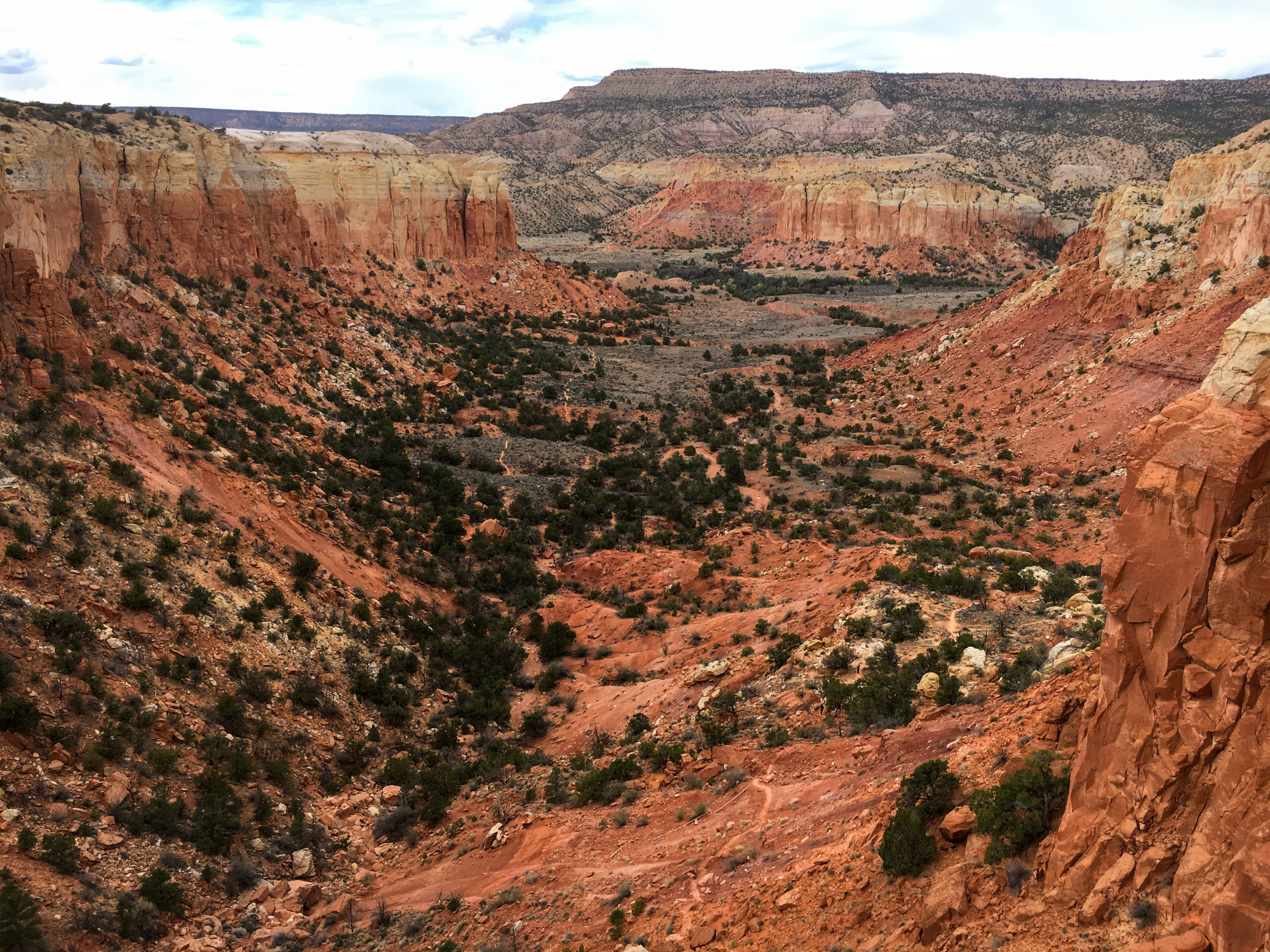 Hiking near the Ghost Ranch
The hike into the ski valley was equally stunning in a completely different way. The snow season lasted a long time this year, and the base elevation in the ski valley is around 9000 feet so the temperature stays cold for a long time. Hiking through a winter wonderland after being out in the desert the day before felt like I was in a completely different world, and the towering Wheeler Peak in the ski valley was awesome to behold.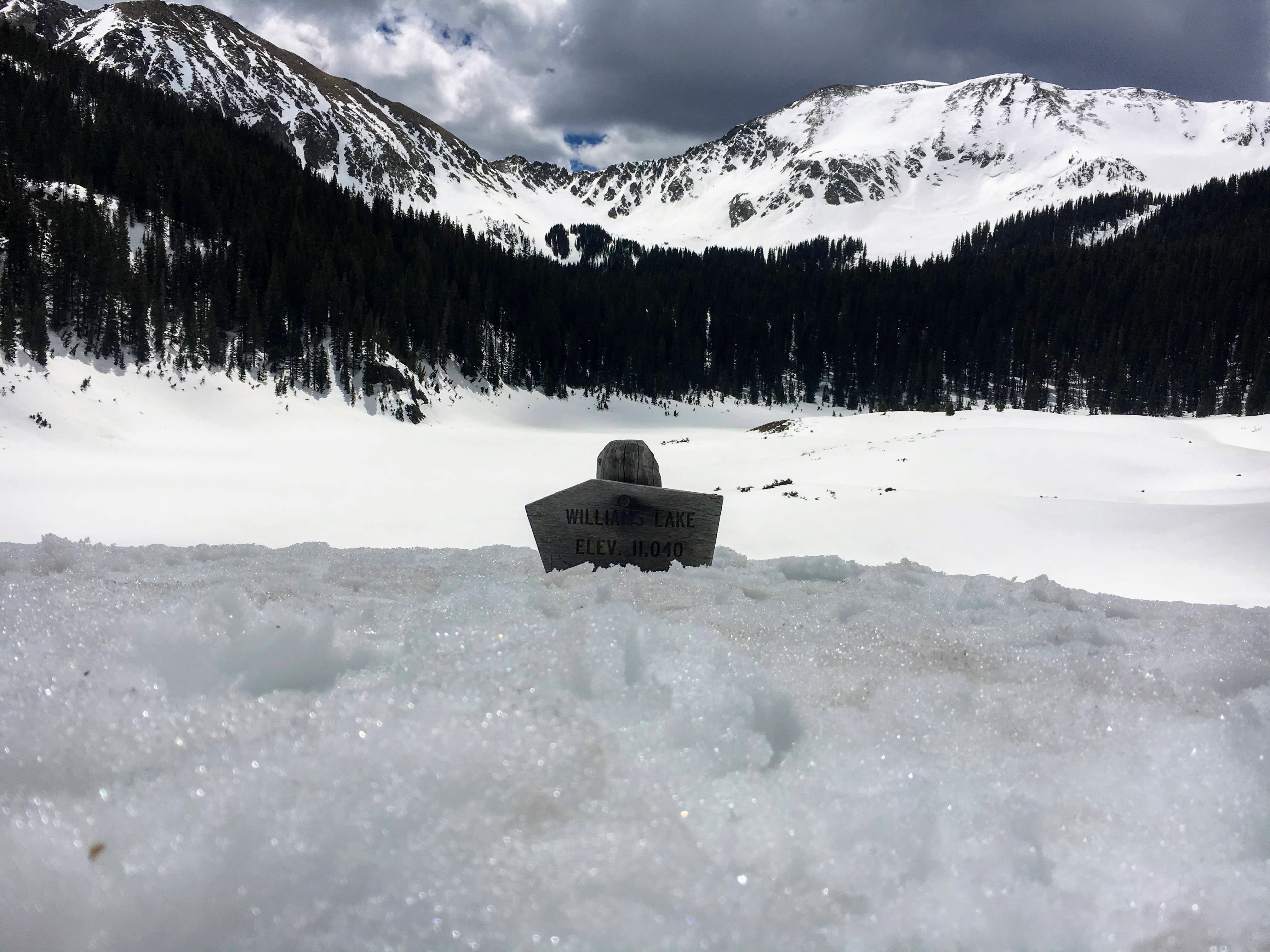 Williams Lake in the Taos Ski Valley
---
Taos
Taos is nestled at the base of the Rockies, with New Mexico's highest peak towering over the town. Much of the town is made to look like pueblo-style architecture, the ancient style of building out of clay, water and straw. It was different being in such a small town. Information sharing was largely word of mouth. Finding rock climbing of any kind was challenging — the first day I was in Taos, I was asking everyone I talked to if they knew anyone tapped into the local climbing scene. I hadn't been able to find a huge amount of information online and there didn't appear to be a gym in town. Eventually I met someone who knew someone and I showed up at his art gallery and turns out there was a tiny little co-op climbing gym in town. It was definitely a lesson in learning how to relentlessly track information down via real people instead of the internet — something I'm certainly not used to doing!
---
Pueblo
An ancient Indian Pueblo sits just outside the town. The people living there can date their ancestry back hundreds and hundreds of years, with each generation passing a home along to the next, and some of the buildings are over 1000 years old. It's the oldest continuously inhabited community in the United States. They have no modern amenities, no electricity, running water, etc. They've maintained their culture throughout the years and are a sovereign nation, meaning that they maintain their own government and work with the U.S. government to maintain and increase rights and land ownership. I spent time there speaking with the locals, asking about their culture and upbringing, how they became a sovereign nation, how things are changing and eating fried bread that they make in enormous outdoor ovens.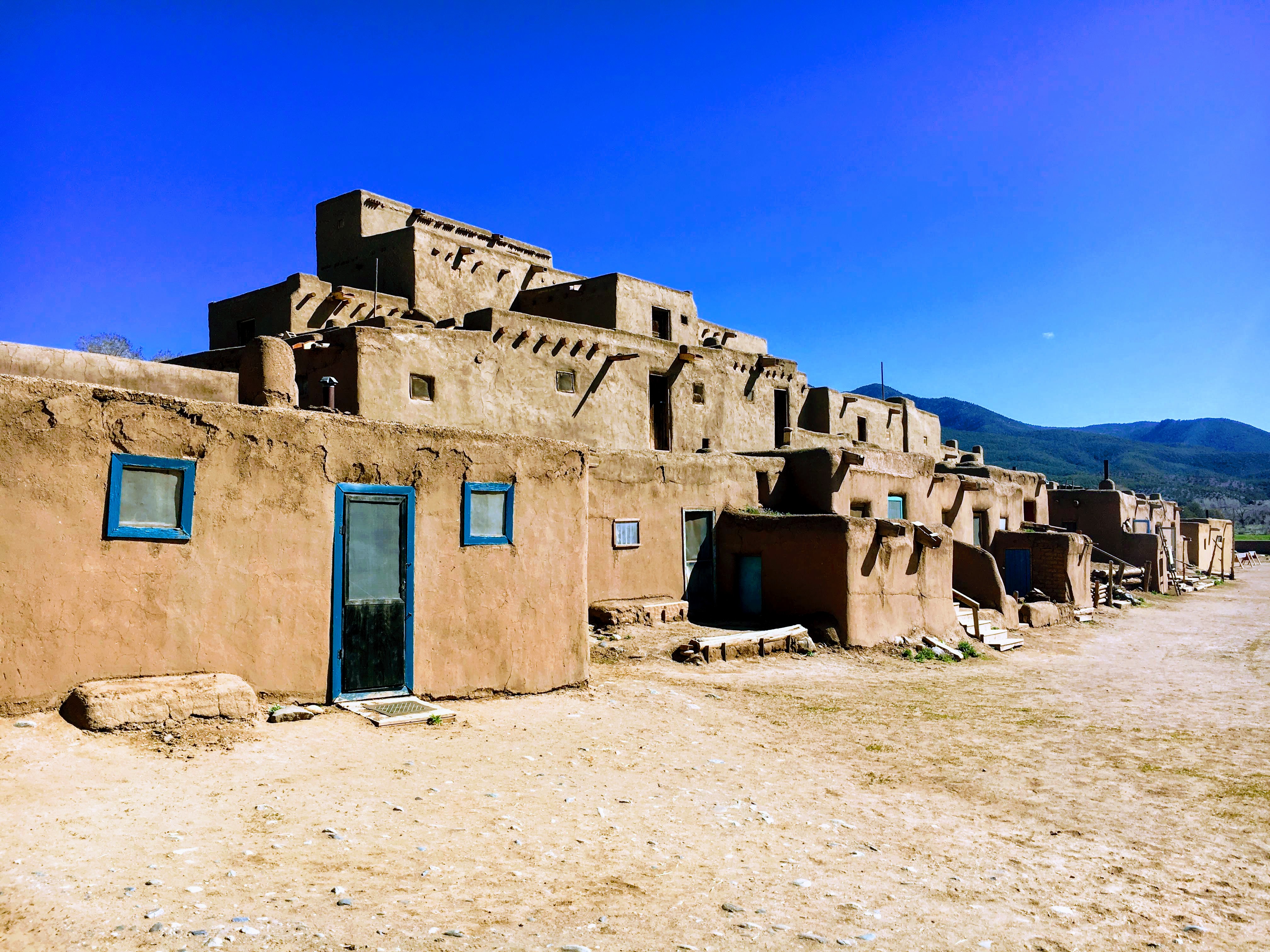 The Taos Pueblo, over 1000 years old
---
Art
A continuous influx of artists over the years, particularly in the 60s and 70s, put Taos on the map and the artist community thrives today. There are an astounding number of galleries in the town, I heard one statistic that there are over 80 — considering there are only about 6000 permanent residents, that's crazy! The landscape in New Mexico is stunning, and it's easy to see why artists gravitate towards it. The stark contrasts between the flat and arid desert, the towering snow-capped peaks, the plunging gorge, the pine-encrusted smaller mountains, and the multi-colored rock formations provide a huge swatch of opportunities for amazing landscape art. There is also a substantial amount of modern art as well as sculpture and hand-made jewelry sprinkled throughout the galleries and shops.
A Bit of Reflection
I stayed in my own little casita while in Taos. It was a nice change of pace to have a place all to myself and gave me a lot of room for thinking and reflection. The last month or so I've been absorbing a lot of nutrition and rock climbing training information in the form of podcasts, research papers, blogs, and whatever else I can find. I've been going down deep rabbit holes and I'm rapidly realizing how complex nutrition actually is and how much mis-information is out there. Likewise for climbing training, there is a huge amount of material to sift through, but I love synthesizing all that kind of stuff down into something that feels applicable and doable for me.
I had a great month in Taos — when things are going well, I find it can be easy to assume things will always be going well. In times like this, I try to remember that many things are outside my control and that fortune can turn rapidly. This doesn't have anything to do with being pessimistic — quite the opposite I think. I want to embrace my current circumstances as much as I can, while maintaining an outlook that things may shift and most certainly will at some point. I think it better equips me to deal with the numerous uncertainties and challenges that traveling and life in general will inevitably throw my way.
I won't claim to have come up with this on my own — this is Stoic wisdom and Seneca puts it like this:
The whole future lies in uncertainty: live immediately.