Leaving Charlotte was intense - moving day was long as it always is, but this move felt mentally much harder than others. The effort of getting rid of so much personal stuff and saying goodbye to so many things (mostly my sourdough starter, RIP) and so many people that have been a large part of my life for the last several years was draining. That isn't to say I got rid of everything - I have a 5x10 storage unit packed to the brim with some furniture, boxes, a childhood's worth of Legos, and a lot of kitchen supplies that I didn't want to part with.
Packing for long-term travel forces you to pack minimally and intentionally. I spent a lot of time considering generally what to bring, how many clothes to bring, what seasons to pack for, what I would want to be doing outdoors and in free time and what to bring for that, and more. I had to think a lot about how much "household" type stuff to bring and how much to just buy when I needed it - e.g. kitchen stuff, basic pantry items, cleaning supplies. With that said, at a high level I'm bringing one carry-on sized suitcase for clothes, my backpack which holds my computer, my Switch, and some electronic peripherals, two small bags of kitchen stuff, another backpack for my climbing gear, and my yoga mat. Oh yeah, and my climbing crash pad, which takes up 70% of the room in my car. And people said I couldn't fit it all in my little car!
The Saturday after moving day, I headed out from Charlotte for New Orleans, about a ten-and-a-half-hour drive. I arrived late and exhausted, so I didn't do much Saturday other than wonder around the mid-city strip close to where I was staying and got some amazing gelato at an Italian bakery (later I found out it's supposedly one of the best in the city) called Brocato's. Sunday was hot and was supposed to be one of the only nice days while I was in NOLA, so I spent the day wandering around the historic French Quarter. It's now a touristy district full of shops, restaurants, the notorious night-life haven Bourbon street, and random people playing horns on the street. There is a lot of history around the French Quarter, including The LaLaurie Mansion - the famous mansion where Madame LaLaurie tortured and murdered slaves.
I was working throughout the rest of the week, but still wanted to still explore since I was only staying a week. It felt rushed being in NOLA for only a week. There is a lot to see in the city and packing it into a week while working full time with questionable weather was challenging and a bit exhausting. It's not my ideal way to travel or experience a city, but I had planned it to be this way as NOLA was meant more as a stopping point than a destination. Regardless of all that, NOLA is an amazing city, full of culture, kind people, beautiful outdoor spaces, delicious food, and kickass music.
Music
---
Frenchmen street was one of my favorite parts of the city. The strip is about four blocks long and packed with bars, nearly all of which have live music seven days a week. All the bands I heard were superb, my favorite being a blues rock band crushing it at a bar called Bamboula's. The Spotted Cat is also not to be missed, particularly if you are looking for "New Orleans Jazz". It's an awesome bar, and even though Frenchmen street attracts the hordes of tourists, The Spotted Cat seemed to have a great mix of both locals and tourists. Everyone there is super friendly and just trying to enjoy the music and have a good time.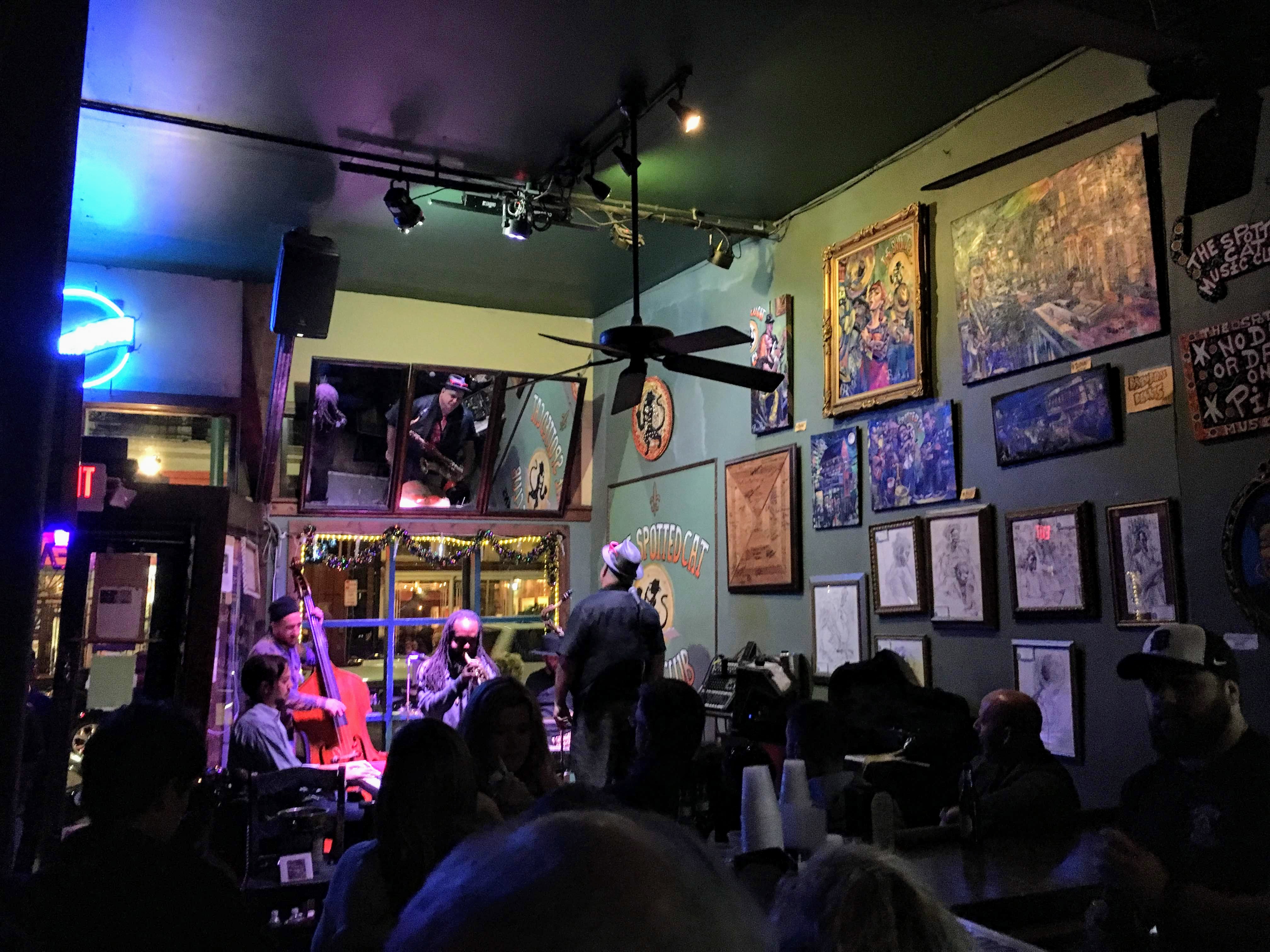 The Spotted Cat
Exploration
---
New Orleans has a large number of beautiful outdoor parks and ancient oak-lined streets. Audubon Park in particular is gorgeous - a two-mile trail loops around the park, with a lake in the center and all sorts of birds. Ancient and enormous oak trees line the trail and the streets bordering the park are filled with mansions, many of them old with some dating back to the 1800s. The house pictured below is called "The Blue Lady" - a Victorian house built in 1889. It also has a sister house directly next to it called "The Pink Lady", unsurprising painted pink.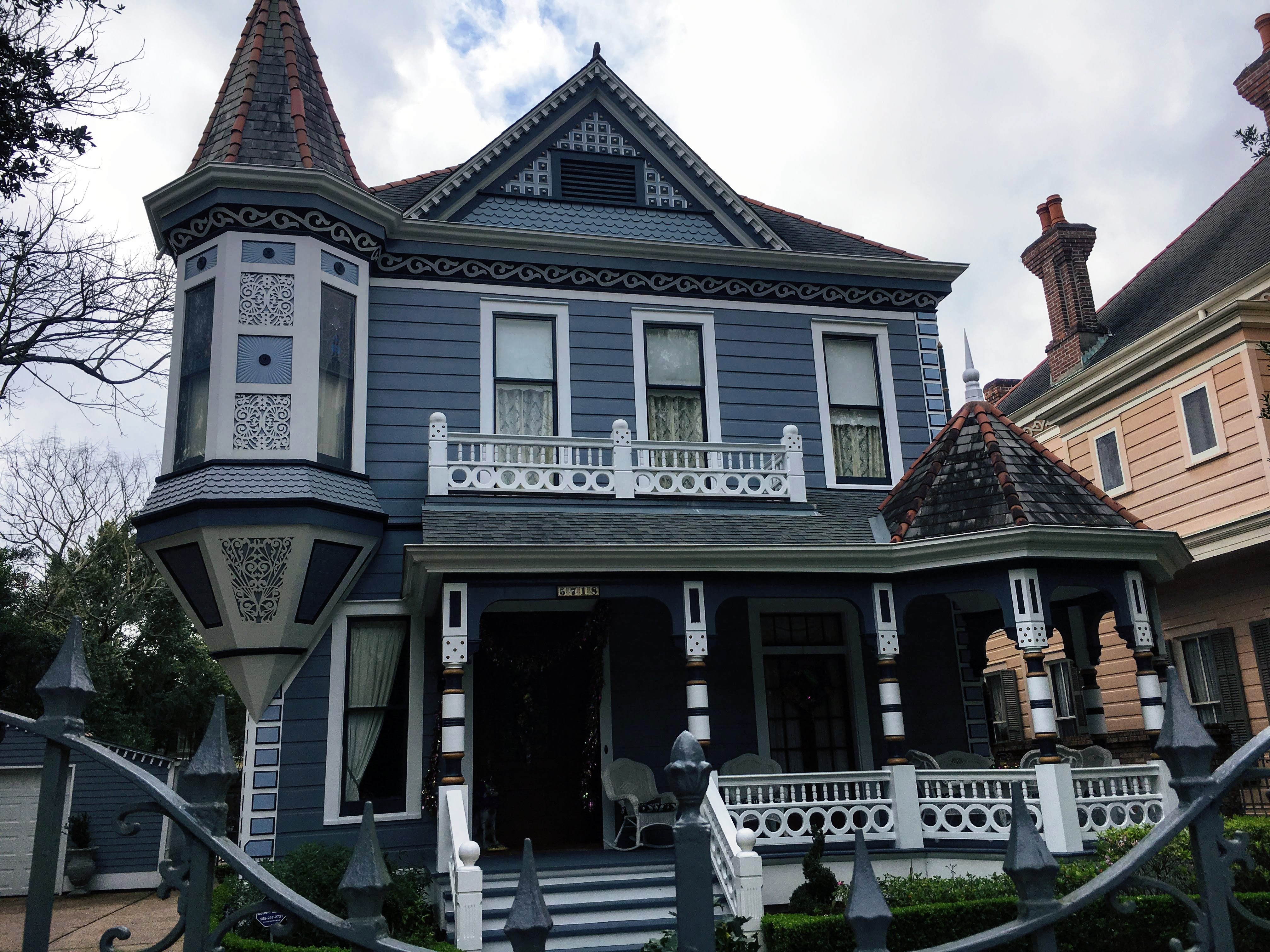 The Blue Lady
There is also a beautiful sculpture garden next to the art museum in City Park. It's free to go in and wander the grounds, and features some really awesome sculptures and beautiful scenery.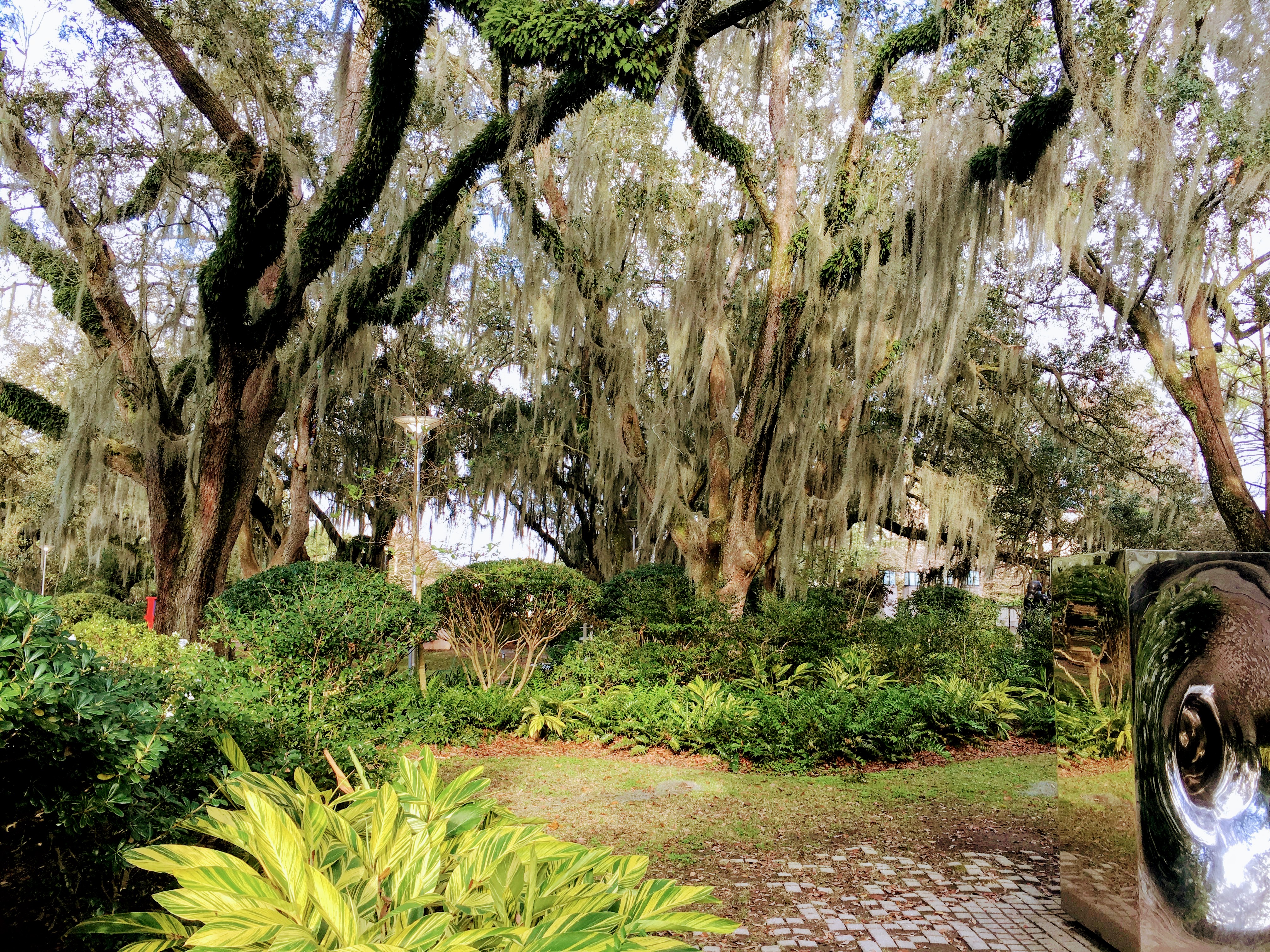 Moss-Laden Oaks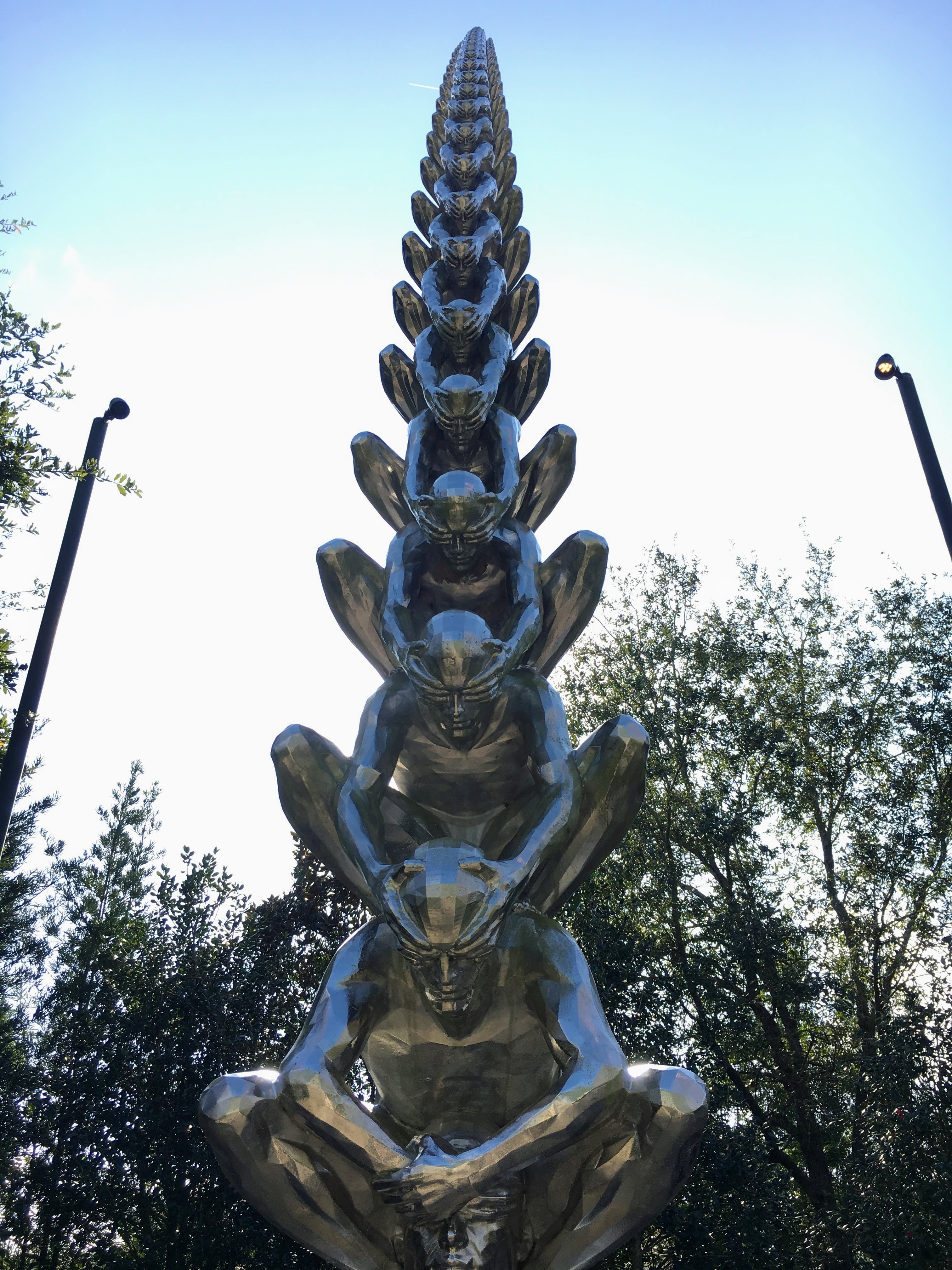 Karma by Do Ho Suh
Food & Drink
---
There's no shortage of good food and drink in New Orleans, but my favorites were Breads On Oak and Spitfire Coffee. Breads On Oak is actually a full-vegan cafe, but they don't advertise it heavily as far as I could tell. The bread is all naturally-leavened (otherwise known as sourdough or "wild yeast"), baked to a caramelized dark goodness and tastes amazing. Spitfire coffee is about as hole in the wall as you can get, with barely enough room for a couple of stools and the coffee bar, but they serve up really good espresso and I can only assume their pour overs are good as well.
On the Road
---
The Airbnb I was staying in had two other guests and the host living in it. All super nice folks, we were on our own schedules somewhat, but it was great to have people around to hang out with and explore the city with. My host went out of her way to make sure her guests were happy, showing us some of her favorite spots in the city and whipping up vegan food for us a few times a week. The Airbnb was in a residential area on a small, very pitted side street. Actually, all the streets in New Orleans are pitted, you have to be super careful driving around. I wasn't really in walking distance from anything too exciting. The closest area that had restaurants and coffee shops was mid-city about a 20-minute walk, so for the most part I was driving everywhere.
After leaving Charlotte, a lot of the stress and apprehension I had about leaving started rapidly melting away. Things suddenly felt a lot simpler once I was on the road. Going from working remotely from my apartment in Charlotte to working remotely while traveling was intimidating. Different fears floated through my head prior to leaving: I felt I wouldn't be able to manage my time appropriately, or some travel disaster would happen and pull me away from work, or I'd just be unable to find strong internet to work, or maybe I'd get fired the next day and then what!
I was also questioning the decision to leave overall. What if I didn't like it and how annoying would it be to have to back out of a decision like this? What if I can't deal with being alone? What if the places I already had lined up to travel to I didn't end up liking at all? What if the Airbnb's are garbage and I can't live comfortably?
There are a million "what if's" to halt us in our tracks when we're about to embark on a new journey. I found it's important to step back from these thoughts and remember that my internal compass has been pointing me in this direction for a long time. The rational mind and what I think of as more of a subconscious compass will always conflict with each other when we're getting out of our comfort zone and pushing towards something new that "feels" right. It's important to take the fears that come up and realize that they could actually happen and perhaps prepare within reason for them, but not to let them stop a decision that still feels correct.
I still have some nomad logistics to sort out (more on that exciting topic sometime), but for the most part things are rolling along, and I'm in a good head space. I'm now in Austin and couldn't be more excited to have nearly five weeks to explore. I'm looking forward to taking it a little slower, living life a bit more normally without cramming things in, listening to some live music and eating a lot of tacos.